The portable copper sulfate reference electrode is suitable for on-site use. It is mainly used to determine the natural potential and cathodic protection potential of underground metal pipelines, to determine the impurity current in the soil, and also to determine the potential of cable metal sheaths and steel bars in concrete. This electrode can be used as a reference electrode for potential control in an impressed current cathodic protection system where the soil is relatively sticky. It can be used in various soils and fresh water.
The reference electrode is an ideal electrode for measuring the potential of buried metal structures. The electrode has the characteristics of stable potential, good anti-polarization performance and long service life.
Instructions:
1. Open the end cap and pour the copper sulfate crystal into the electrode tube.
2. Pour an appropriate amount of distilled water or purified water to form a saturated copper sulfate solution after the copper sulfate crystals are dissolved. The sign of saturation is the presence of crystals in the electrode tube. It can be used to measure potential after tightening.
3. When measuring the potential, the electrode body is inserted into the dielectric (water or soil). For the soil, as long as its end is in contact with the soil. When measuring the potential, one end of the multimeter pen is connected to the lead wire of the reference electrode, and one end is connected to the test line or test terminal.
CONSTRUCTION: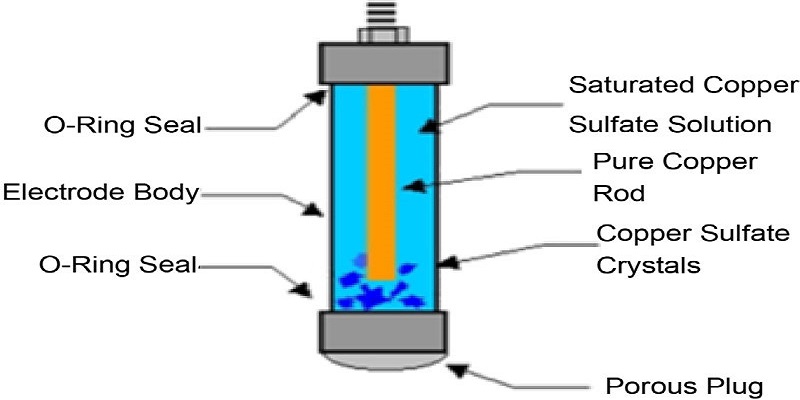 Specification:
| | | | | |
| --- | --- | --- | --- | --- |
| Materials | Type | Shape | Life time | Applicable environment |
| Cu/CuSO4 Reference Electrode | CCT | Cylindrical | Continue to apply after supplementing copper sulfate | Portable type, used for on-site measurement in water and soil |
| Silver Chloride Reference Electrode | CCY-1 | Cylindrical | 6years | In the sea |

Packing & Shipment:




Welcome to visited DECHO Metal website,if you are interested our hot sale and high quality Cu/CuSO4/ Portable Reference Electrode and Silver Chloride Reference Electrode ,Please feel free to contact with us!
Email:info@dechometal.com
What's app:+86-19929030300